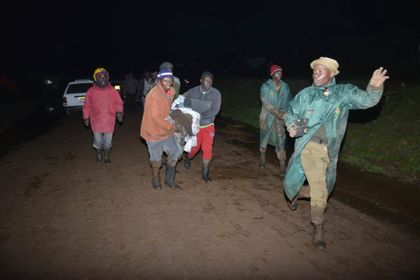 A dam on a commercial flower farm in Kenya's Rift Valley burst after weeks of torrential rain, unleashing a "sea of water" that careered down a hillside and smashed into two villages, killing at least 47 people.
Water burst through the banks of the Patel Dam in Solai, Nakuru County, on Wednesday night (Thursday NZ Time), sweeping away hundreds of homes, including those on the expansive Nyakinyua estate that borders the reservoir.
The toll, the highest in a single flood-related incident now brings to 162 the number of people who have died countrywide as a result of floods since heavy rains started in March.
Statistics by the Kenya Red Cross Society indicate Nakuru has been one of the worst affected counties by floods raising the national death toll to 143 and those displaced to 264,500.
Interior Cabinet Secretary Fred Matiang'i visited the scene and said the government had launched investigations to determine the stability of six other dams.
"We have discovered 38 bodies, many people were missing".
NBC Releases Findings in Matt Lauer Sexual Harassment Inquiry
Lauer admitted to the allegation in an interview with NBC's legal and human-resources staff on November 28, the report said. The report claims executives did not receive complaints about the veteran journalist's behavior before November 2017.
Nakuru East Deputy County Commissioner Omar Salat assured the victims that the government will help them find temporary shelter and provide relief food.
"When we heard noises, we thought it was raining heavily nearby".
She grabbed her two children and ran across the road, only to realise that the other two had been left behind. "I'm so confused. I hope they are alive", she said.
"I could not comprehend". He said the search was still going on.
Witnesses said they heard a loud bang before the waves swept through almost 2km of farmland where many people live and work.
Residents feared that more bodies could have been trapped inside deep dreaded holes of fault lines.