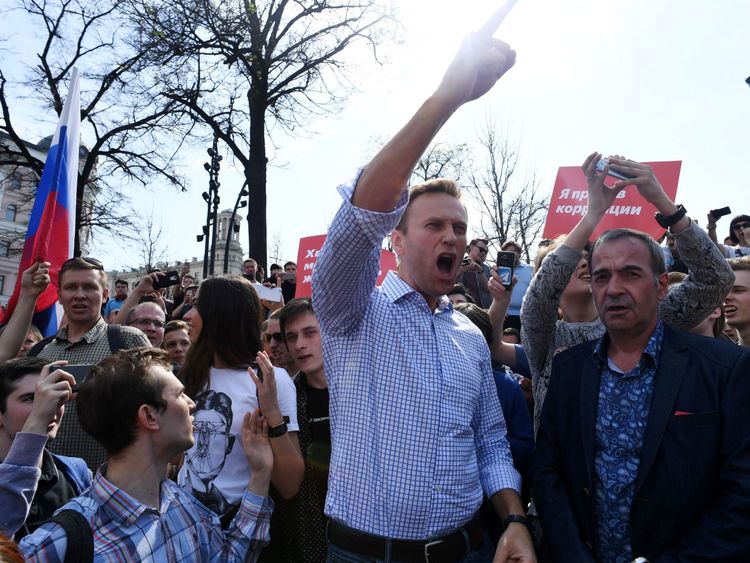 Thousands of demonstrators denouncing Putin's upcoming inauguration into a fourth term gathered Saturday in the capital's Pushkin Square.
In Ryazan in western Russian Federation an activist was illegally held by police for five hours over the distribution of leaflets ahead of the rally, the monitoring group said.
Several supporters of Russian opposition leader Alexei Navalny have been detained across the country ahead of a rally to protest Vladimir Putin's swearing-in for a fourth Kremlin term, monitors said on Friday.
Video showed police carrying a struggling Navalny, who is Putin's most prominent foe, out of the square, carrying him by the legs and arms.
In the Siberian city of Krasnoyarsk, the Siberia Desk of RFE/RL's Russian Service says 150 people were detained following clashes between protesters and baton-wielding police.
Retaining titles will put Gennady Golovkin on par with this legend
He is 3-3 over his past six bouts, but views this as a chance to return to an elite level. Although we will no longer be receiving the rematch, Golovkin is still set to fight.
In Moscow, riot police detained some protesters, while men, in traditional Cossack dress, were seen beating some of the demonstrators as a police helicopter flew above the crowd.
News reports and social media postings said that protests had attracted thousands of people in at least 10 cities in the Far East and Siberia.
Putin will be inaugurated Monday for a six-year term.
A Sputnik correspondent also reported from the scene that the police asked the crowd at Pushkin Square to leave and not to interfere with the passage of other citizens, warning about the possibility of using force in case of disobedience.
The arrests came after police detained a number of Navalny's supporters across Russian Federation on the eve of the protests.