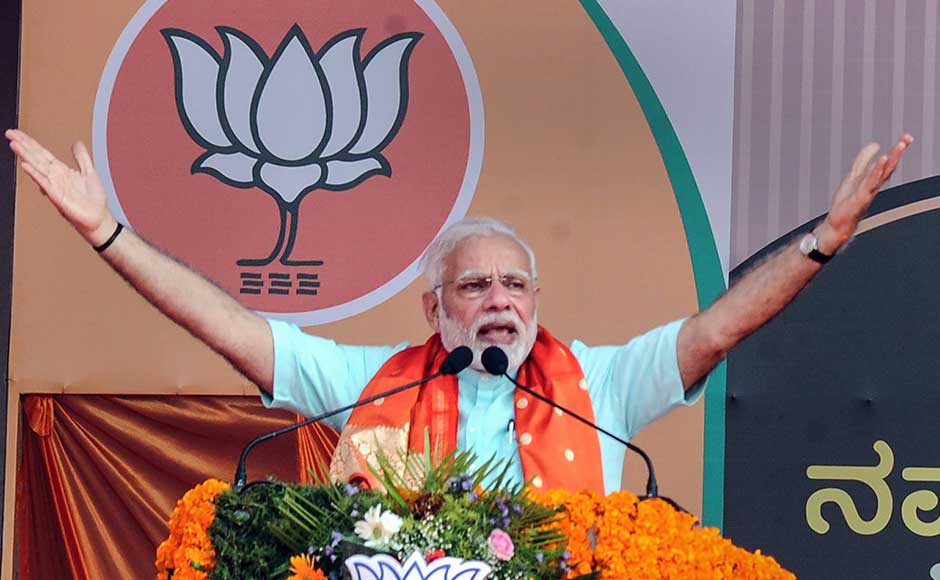 Congress President Rahul Gandhi on Thursday said that Prime Minister Narendra Modi resorts to personal attacks and character assassination when he is desperate.
Addressing an election rally in Kalabugari district of poll-bound Karnataka, the Prime Minister said "Congress has no respect for the sacrifices of our soldiers".
PM Modi said that his government's Fasal Bima Yojana effectively benefit the 'farmers in a big way.' He alleged that due to the apathy of the Congress government in Karnataka, farmers could not benefit from the Fasal Bima Yojana.
Gandhi, who came under a scathing attack from Modi at his rallies in Karnataka, said, "Let him speak anything about me, whether it is wrong or right, it will not make any difference".
With his own Government under attack over agrarian distress in several States, including Karnataka, Modi sought to assuage the concerns of the farming community.
Somali gunmen abduct German ICRC nurse in Mogadishu
Somalia, which collapsed into civil war in 1991 and has been wracked by an Al-Qaeda-linked Islamist insurgency since 2006. Armed men have entered the Red Cross compound in Somalia's capital Mogadishu and abducted a German nurse, officials say.
Modi had also condemned Congress for the multiple murders of BJP leaders in Karnataka. He said ' When our soldiers carried out surgical strikes, the Congress party questioned them. "I not only receive Gowda at the door and opening the door of his auto but also accompany this 84-year-old former prime minister up to the vehicle when he is leaving". Modi visited the state today for campaigning for the BJP. "This election is not only for changing the Congress govt. but for changing the fate of youth, women and farmers of Karnataka", PM Modi added. "I will take Oath as Chief Minister on May 17 or 18 with Prime Minister Narendra Modi's blessings". I request people to join hands with him again for further progress of the region.
Modi's reference to Swaminathan report was in response to the Congress effort to build up a movement cashing in on the series of suicides by farmers and the woes they have been facing because of drought, heavy loan burden and lack of adequate government support.
"This party (Congress) only knows how to prostrate before the members of one family". At both the rallies, the PM accused the Congress government of stalling infrastructure projects of the Centre, saying, "Blocking (atkana), keeping things hanging fire (latkana) and misleading (bhatkana) is their nature". "When we got the opportunity, we elected a Muslim - Dr. Kalam as the President, we elected a Dalit - Shri Kovind as the President", said PM Modi. "You don't talk about this too", he said. "When the Congress starts spreading such lies, it means the BJP is winning", he said.
After BJP chief Amit Shah declared Yeddyurappa the party's chief ministerial face on May 27 past year, it is "no wonder that the process to shut down all cases by CBI in a surreptitious manner was set in motion immediately", Shukla said.