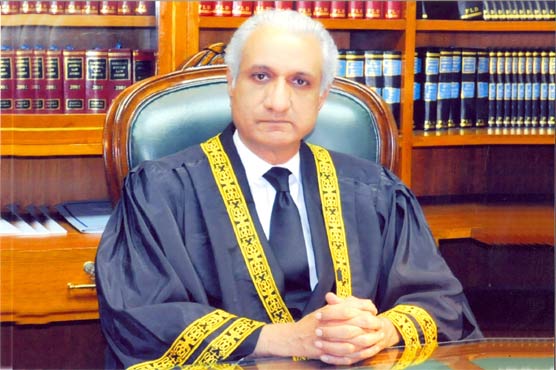 Chief Justice of Pakistan Mian Saqib Nisar visited the residence of the Supreme Court judge, and called the Punjab inspector general to probe the incidents. The CJP is believed to be personally overseeing the investigations.
Prime Minister Shahid Khaqan Abbasi also condemned incident of firing at the residence of Justice Ijaz Ul Ahsan in Lahore, said a press release by the PM Office.
Punjab Bar Council (PBC) and other lawyers' organizations on Sunday gave a strike call for Monday to condemn the firing incident outside the residence of Justice Ijazul Hassan, in Model Town.
Bilawal Bhutto Zardari said that the PPP stood for protection and respect of judges.
Elements involved in firing on residence of Justice Ijazul Ahsan should be exposed and brought to book, he demanded. The police officials are investigating whether it was a targeted attack or aerial firing.
A forensic team has also reached the scene to collect evidence while ballistic experts are called in to determine the nature of fire.
Several Killed As Security Forces Clash Along Afghan-Pakistan Border
Pakistan claims it is subject to attacks by Pakistani Taliban militants that Islamabad says are based on the Afghan side of the border.
According to reports by security forces, spent bullet casing of a 9mm pistol was found near the main gate of Justice Ahsan's residence last night while another was found near kitchen window in the morning.
"Lawyers of the whole country are standing with the Supreme Court judges", SCBA Secretary Safdar Tarar said in a statement, while LHCBA President Anwarul Haq said the lawyers were soldiers of the SC judges.
Justice Ijaz-ul-Ahsan was a member of the bench that ruled that former prime minister Nawaz Sharif could not become party chief after his disqualification.
Pakistan Tehreek-e-Insaf (PTI) chairman Imran Khan took to Twitter to condemn incident. He was part of the bench which disqualified Nawaz in the Panama Papers case a year ago.
He is also the monitoring judge of the ongoing corruption cases in accountability court, filed by National Accountability Bureau (NAB), against Nawaz Sharif, his family and former finance minister Ishaq Dar. The bench ruled that an individual disqualified under Article 62 and 63 can not hold the chairmanship of a political party, leading to Nawaz Sharif losing the presidency of PML-N.