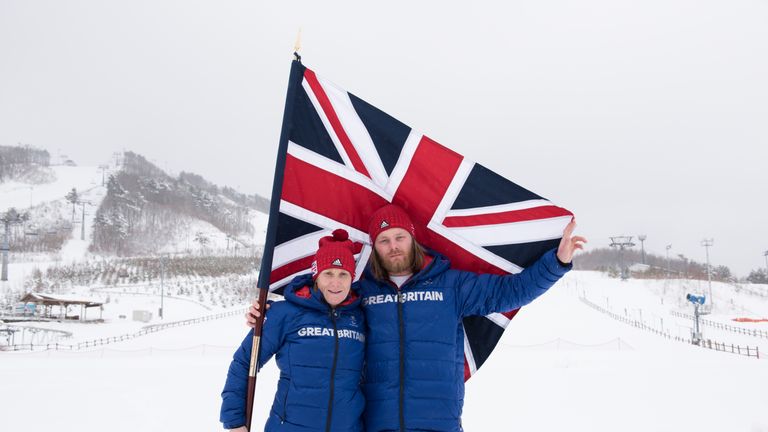 Patmore becomes Australia's first Winter Paralympic gold medallist since Michael Milton won four and fellow alpine skier Bart Bunting and his sighted guide Nathan Chivers claimed two medals at Salt Lake City in 2002.
Sin Eui-hyun of South Korea competes in the men's 15-kilometer sitting cross-country skiing event at the PyeongChang Winter Paralympic Games at Alpensia Biathlon Centre in PyeongChang, some 180 kilometers east of Seoul, on March 11, 2018.
Organisers said the athletes only started skiing in three months ago and had previously played a version of table tennis for disabled competitors.
Jess Gallagher was the first and last Australian to win medals at both a Winter and Summer Paralympics.
This is the largest Winter Paralympics ever, with 567 athletes from 48 countries plus a team of neutral Paralympic athletes from Russian Federation.
Unlike at the recent Winter Olympics, South Korea and North Korea marched separately, after failing to resolve differences about the nature of the proposed Korean unification flag.
North Korea had wanted to use a version of the Korean peninsula flag that includes islands disputed with Japan.
Rabada banned for two Tests after Smith contact
Rabada ended the match with combined figures of 11 wickets for 150 runs, proving to be the clear difference between the sides. And Rabada completed his magic by having Mitchell Starc caught behind by wicketkeeper Quinton de Kock for only one.
After South Korean President Moon Jae-in declared the Games open, the Paralympic torch arrived at the stadium.
A record 48 countries are taking part in the Games.
The $106m 35,000-seater stadium, which will be pulled down after the closing ceremony, appeared to be about two thirds full, and the crowd watched a ceremony consisting of traditional Korean dance, combined with modern music and blended with light shows.
At one point a young girl directed illuminated fish that were swimming in the arena floor.
While the North and South Korean athletes stole the scene at the Olympics' opening ceremony when they marched together under a unified flag, the same did not happen at the Paralympics.
TWO North Korean rookie skiers finished last as they made their country's Winter Paralympics debut in the South today, but a flag-waving crowd cheered enthusiastically at the latest sign of an Olympics-fuelled rapprochement.