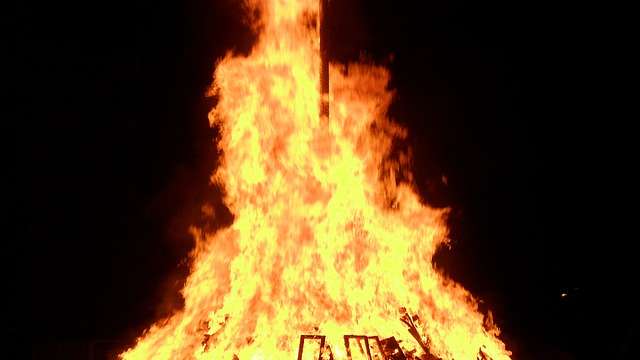 A mob of up to 20,000 Muslims burned down a Hindu village in Bangladesh after rumours spread that a resident had insulted Prophet Mohammed on Facebook.
External Affairs Minister Sushma Swaraj confirmed that the Bangladesh authorities on Sunday assured India that compensation will be paid to those Hindus whose houses were torched over rumours that an offensive Facebook status was posted allegedly by a youth from the minority community.
One person, 30-year-old Habibur Rahman, was killed when the police opened fire to ward off the angry mob that turned violent and set fire to several homes.
George Clooney Hosts Jimmy Kimmel Birthday Retrospective Doc On 'JKL'
Kimmel and West had engaged in a Twitter fight after the late-night host mocked a rambling interview West gave to the BBC. Watch new episodes of Jimmy Kimmel Live weeknights at 11:35 PM EST on ABC.
A thousands-strong mob set ablaze a Hindu village in Bangladesh after rumors began spreading in the area, alleging that a man from their community insulted Prophet Muhammad on Facebook.
A crowd of 20,000 people had reportedly gathered from six to seven neighbouring villages before the attack was launched by a group of people, it said. Kotwali police station Officer-in-Charge Moktarul Islam said that as the tension hadn't completely died down, a large number of police personnel had been deployed in the area, in case of an emergency.
The Cabinet Minister said that the government has received a detailed report from the Indian High Commission in Dhaka on the November 10 incident. At least 30 houses belonging to Hindus in Thakurpara village, some 300km from the Bangladeshi capital Dhaka, were then torched, local media said. The panel has been asked to submit its report within a week.