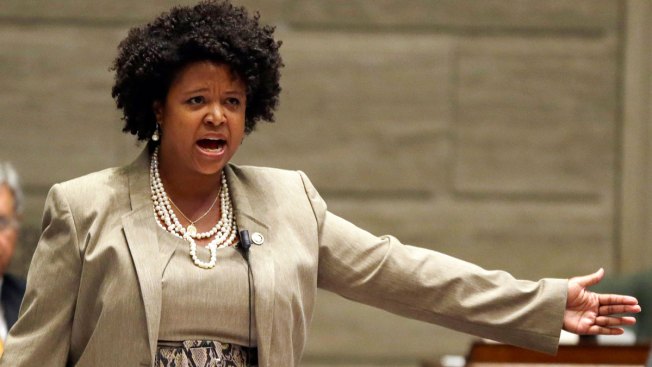 A Missouri state senator likened President Donald Trump to German dictator Adolf Hitler Oct 12., months after expressing she hoped the president would be assassinated.
A Missouri state senator is again facing criticism for another social media post about the president. Keep in mind that Trump's daughter Ivanka and son-in-law Jared Kushner are both Jewish, so the Nazi meme is offensive on multiple levels. The meme itself is riffing off a Dove ad in which a black woman takes off her shirt to reveal a white woman. Dove apologized for the ad, which many social media users called racist.
State Sen. Maria Chappelle-Nadal posted a meme that shows Trump taking off a shirt. Oh, there's also the entire country that Trump has to run, in addition to juggling geopolitical threats like ISIS and North Korea.
It wasn't immediately clear Thursday if her tweet of the Trump meme will cause backlash similar to the kind sparked by her August assassination post, which she deleted and apologized for amid calls for her to resign. "I support the protesters & I support Puerto Rico!" Perez shut down complaints from San Juan Mayor Carmen Yulin Cruz by noting that she has not attended any FEMA meetings. "And I'm not ever going to make a mistake like that again", she said after the post.
Roswell TV Reboot in the Works at CW
Amblin TV is finalizing a deal with Apple for a series order to an Amazing Stories reboot via Universal TV. A reboot of the 1999 series is in early stages of development at The CW, EW has confirmed.
"I still have a First Amendment right, and I still have a family I need to fight for", Chappelle-Nadal told the AP.
Though her Senate colleagues admitted in September they did not have the votes to remove Chappelle-Nadal from office, they did vote to censure her, nearly unanimously.
Chappelle-Nadal said she posted her Facebook comment out of frustration over Trump's response to a white nationalist rally in Charlottesville, Virginia, in August.
She also defended the meme by saying it was popular among St. Louis protesters, who are peacefully demonstrating against police brutality. Just ask ESPN's resident Trump hater Jemele Hill.