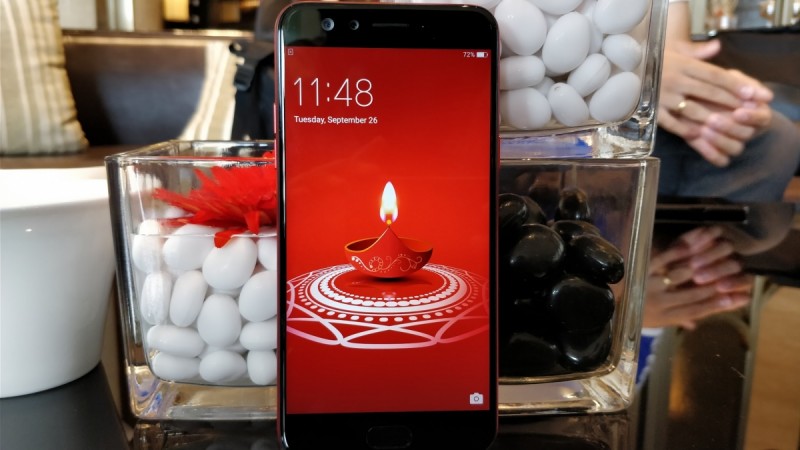 In order to celebrate India's festival of lights, Diwali or Deepawali, Chinese smartphone manufacturer Oppo has recently launched a special Limited Edition of its popular selfie-centric smartphone, Oppo F3 in the Indian market. Dubbed as Oppo F3 Diwali Edition, it comes in a bright Red Hue with gold coloured antenna bands on top and bottom. Oppo has also partnered with Masaaba to create some designer cases for the new smartphone.
The smartphone was launched in India back in May; Oppo last month also launched the Deepika Padukone Limited Edition of F3. Usually, the limited edition models will be priced more than the standard edition, however, this time, the Oppo Red colour Deepavali Edition is priced INR 1,000 less than the standard edition, which might be a deal breaker if you were looking for a new smartphone from Oppo. On the battery front, the Oppo F3 smartphone draws its power from a 3,200mAh non-removable battery.
The specifications on Oppo F3 Diwali Limited Edition include a front-facing dual camera setup, which is the biggest highlight of the smartphone.
"If we talk about the specifications, the Oppo F3 Diwali edition features a dual selfie camera, one for selfies and one for the group selfie.The selfie camera features a 16MP lens with F 2.0 aperture, 1/3" sensor for bright and attractive images in low light conditions. The storage of the mobile phone is expandable to 256GB via microSD card support.
The 13-megapixel camera at the rear allows the users to record full HD 1080p videos. Just like the Oppo F3 Plus front camera, "one for selfie, one for group selfie".
Fistfights, chair-throwing erupt in Uganda's Parliament during President's age-limit debate
Donning red ribbons, they stood up and crowded around the podium, banging on it and on their benches. Nineteen people including Uganda's leading opposition figure, Kizza Besigye, were also arrested.
Oppo F3 runs on ColorOS 3.0 which is based on Android 6.0 Marshmallow. The original Oppo F3 variant is priced Rs. 1,000 higher than the price of this limited edition model, which makes it a deal. In this smartphone also the camera doesn't disappoint.
On the connectivity part, the device features a dual-nano SIM card slots with 4G LTE and VoLte capability on both the slots. There's one 16-megapixel 1.3-inch sensor with f/2.0 aperture, and another double view wide-angle camera that has an 8-megapixel sensor. The phone former supports a 76.4-degree wide-angle lens, the latter it supports a 120-degree wide angle lens.
The device gets an octa-core MediaTek processor coupled with 4GB of RAM.
Apart from the colour, nothing has been changed in the smartphone's specifications.