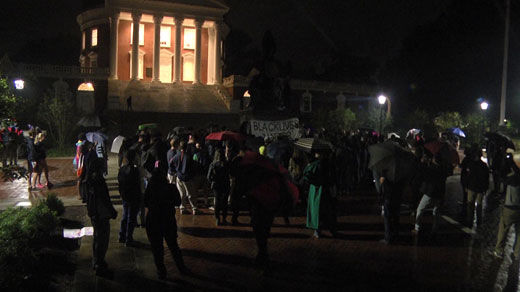 Protesters covered a Thomas Jefferson statue at the University of Virginia in a black shroud during a demonstration late Tuesday - charging the former president as a "racist" and "rapist".
The ultimatum includes calls to remove and contextualize monuments, institute mandatory social justice education, and impose quotas for minority student and faculty recruitment.
President Donald Trump in a combative news conference last month defended "Unite the Right" rally members who protested the planned removal of a statue of Confederate general Robert E. Lee in Charlottesville.
The group covered the monument representing the nation's third president and founder the university in protest of the school's response to the violent "Unite the Right" white nationalist rallies in Charlottesville, where 32-year-old Heather Heyer died after a man drove his auto into a crowd of counter-protesters on August 12, The Daily Progress reports.
University president Teresa Sullivan in a statement said she "disagreed" with the covering of Jefferson's statue and defended the former US president's contributions to American freedoms. It takes time to heal as a community and we must do so together.
Murder Suspect At Bestival Has Been Released From Jail
Louella died a day before her 26th birthday. "The family would like to thank everyone for their heartfelt tributes and messages". The man was arrested on suspicion of murder after Louella was found dead in Woodland around 1am on Monday morning.
WVIR reports a sign on top of the covering said, "TJ is a racist and rapist".
Similarly, the Virginia GOP described defacing Jefferson's statue as "the next step in the extreme left's movement to erase our history", calling it a "criminal offense, plain and simple". "The visibility of physical violence from white supremacists should not take our attention away from condemning and disrupting more "respectable" racists that continue to control the structures that perpetuate institutional racism".
Is protesting Jefferson's statue justifiable for all Americans?
Multiple speakers shared their thoughts on the matter with the crowd, many of whom criticized the university administration for its response to the rallies and claimed the university was not paying its workers a living wage.
The respondents are virtually deadlocked, for instance, on the demand that "all students, regardless of area of study, should have required education on white supremacy, colonization, and slavery as they directly relate to Thomas Jefferson, the University, and the city of Charlottesville", with 40 percent of students supporting the idea and 41 percent opposed. No police officers were observed at the statue on Tuesday night.